Deuter Compact EXP 12 Hydration Pack
After running out of water on some summer time rides, I decided it was time to upgrade my 10+ year old hydration pack to something that could keep me hydrated.  The old one was a cheaper Camelbak knock off from a company called SuperGo.  All things being equal it performed really well for the price I paid.
I found this Deuter brand mentioned on a few biking websites so with decent pack reviews, and Sierra Trading Post  clearance I had to give it a try.  The pack is specifically designed for biking but it would also make a nice day hiking pack.
Some of specs on this pack:
Hydration capacity: 3L (101 oz.)
Frame type: Internal
Frame material: Flat spring steel
Pack loading: Panel
Rain cover: Yes
Recommended use: Hiking,Cycling
Dimensions: 17.7 x 8.6 x 7.8″
Pack capacity: 730+150 cu.in.
Volume liters: 12+2.5L
Weight: 2 lb. 6 oz.
The back padding and airflow look like they will do the job!  This pack has an internal steel frame for support, I haven't seen that in other bike specific packs I've read about.  The shoulder straps don't have a lot of padding, but how much weight can you really put into this size of a pack?  The rubberized mesh looks fairly sturdy but I have run into issues before with similar mesh that has 'dried out' and cracked, we'll see how it lasts long term.
There are two compartments on the backpack.  One smaller outer that can hold most of your tools and has an elastic band for holding your tire pump.  There are a few mesh pockets, a larger zippered one, and a smaller Velcro pocket.
Behind the first zippered compartment is the larger one. This is actually a good size! For reference I stuffed it with a jacket, a pair of jeans, a long sleeve shirt, a t-shirt and still had room for gloves and a baseball cap.   One cool thing about the pack, if you want some room, there is an expansion area that unzips. You can't see it in this photo, but it gives some additional room by expanding out about 2″ or so.
At the bottom of the pack is a zippered pocket that holds a rain cover. The cover is bright and is detachable if you don't want it in there. There is also a small pocket at the bottom that holds a mesh netting, it pulls out to hold a helmet onto the back of the pack.  It can be stowed away when not in use but looks like it will do the job.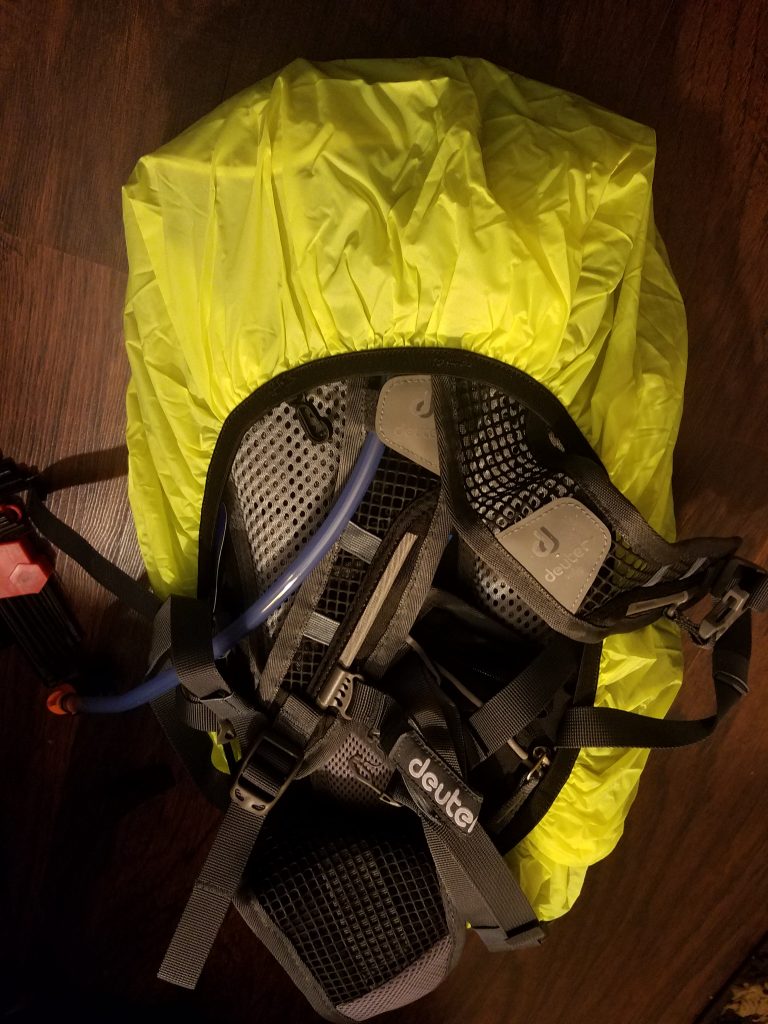 Here is a top view of the pack with the expandable area partially unzipped, you can see the expansion.  On the other zipper pulls you see a few snap clasps, they keep the zippers together and hopefully stop some of the flapping in the wind.
The pack has a ton of features that were really thought out, most importantly for me, it holds a 3 liter bladder! The bladder has it's own zippered area closest to your back, and the hose feeds over the shoulder within a velcro closer.  The bite valve seems sturdy, and the hose is removable from the bladder.  My only concern is the way this bladder gets refilled.  You need to remove it from the pack, slide the orange clamp off and expand the bladder like a bag. Once it's filled you reverse the process.  It may not be that bad in practice, but compared to my old one it's an additional step.
Above you can see the 90 degree bite valve, it has an on-off switch that you rotate a half turn to activate, actually less than half to get water to flow.  It seems easy enough but we will see how it works with sweaty hands or dirt covered fingers…or frozen mittens!
Here is the packed stuffed (expansion area not open).  I had to remove the jeans to get it all to fit with the 3 liters of water.  Also it's not very easy to put the filled bladder in when the rest of the pack is filled.  I removed most of the contents to get the bladder in. This is probably not a huge deal if you don't stuff it full, but for testing that's what I did.
Other features on the pack include water bottle holders on either side, and small zippered pockets on the each hip belt. The pockets are not large enough for a phone but might hold your keys or a small wallet, maybe even a pack of smokes if you are into that.
I'll update this post once I get it out on the trail and put it thru it's paces, but other than the bladder logistics, it looks like a winner! For the size, it is perfect for biking or a day hike.  If you pack really well, it could work as as over-nighter!
Edit after using for some time ( 4-6-2018):
The pack works great, in cold weather riding and hiking the hose doesn't freeze up as quickly as others.  My son has a generic hydration pack from Field & Stream and his froze up fairly quick.
For warmer riding I did notice the packs' back support soaks up the sweat(and smell) after a few rides they get ripe!  I removed all the tools, the bladder and tied up the straps to toss it into the washer.  Now it's good as new!  This isn't a huge deal, but I didn't have much of an issue with sweat absorbing on my old pack, maybe because it has almost no padding.
There isn't any bad tastes and filling is really easy.  Since there are 4 zippers on this thing, it sometimes gets confusing on which one you are opening.  I mostly use the outer most zipper area for quick access and other 'just-in-case' items go into the main larger area that I rarely access.