Best Donuts in Metro Detroit
I decided to give it a go and try to find the best donut spot in the Detroit area. So many to check out, but so little time haha!
Like pizza and hot dogs, a good donut is totally subjective, what's the old saying beauty is in the eye of the beholder? There are probably a ton of variables to consider in choosing a best donut. For me, I like moist donuts that are sweet but not too sweet and they gotta be fresh or it's going out the window! Also I am more of a fan of the old mom and pop style bakery as compared to the upscale, marbled counter, Edison light. exposed brick type shops.
Rochester/Troy has Knapps that has been there for years. A pretty decent donut for sure, and for lunch a great the ham and cheese sandwich with the most excellent bread!
While not in metro Detroit, still honorable mention goes to Kalamazoo's Sweetwater…tasty!
Avon in Pontiac has probably the best donuts I've had so far. Time magazine rated them in the top 10 donuts in the USA. Really, how do you sign up for that job!
When I got there around 9am on a Sunday morning there was a line but it was worth the wait.
Southfield has a place called The Donut Bar. While they had a smaller selection of donuts, they were really not the normal ones you'd see. Not my favorite though.
Really though, a donut shop making a bad donut is just well.. pretty bad.
Dilla's Delights right by the Detroit Opera Theater was not bad, a fresh donut and a decent selection. The glazed was choice but the double chocolate was a bit dry.
Daddy's Donuts in Utica has custom, made to order donuts on the weekends.
It's like Coldstone Creamery but with donuts.
They have a variety of custom donuts on a menu, but you can mix and match any ingredients to make your own.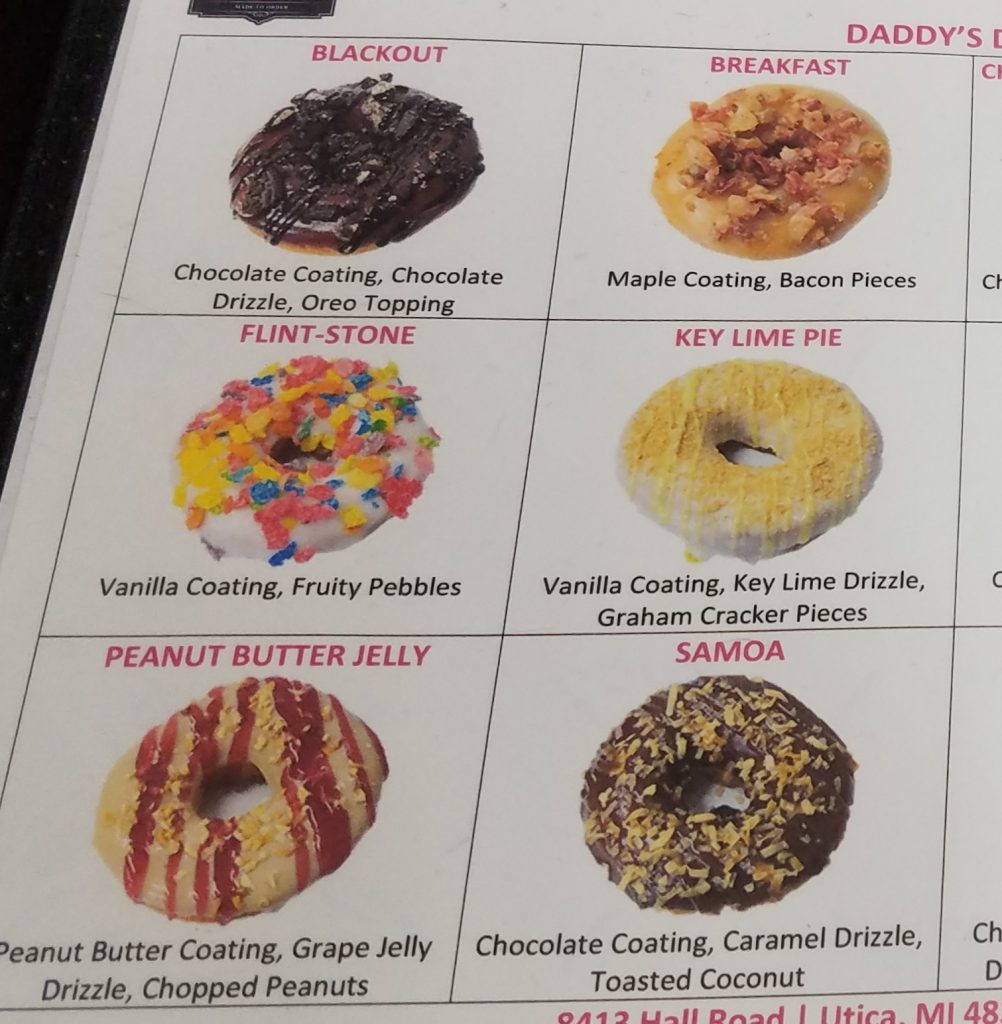 Page 2 of the donuts they make, some very interesting combo's!
They were good, but for me really just too much flavor/sugar if thats possible!
So I am still on the never ending search for the best donuts but Avon Donuts does top them all so far!
Coming soon list:
Donut Cutter – Berkley
Almont Bakery – Almont
Dutch Girl Donuts – Detroit
Looney Bakery – Livonia
Apple Fritter Donut Shop – Ferndale
Holy Moly Donuts – Detroit
Daily Dozen – Warren
Family Donut Shop – Hamtramck